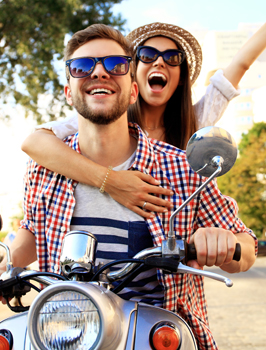 Are gaps, chips, or stains devastating your smile? Don't worry—you can regain a vibrant and confident smile with porcelain veneers.
Porcelain veneers are thin shells of ceramic material that are placed over the damaged tooth surface. They can cover up any type of minor imperfection to restore your smile's bright and youthful appearance. At Harris Family Dentistry, we create natural-looking porcelain veneers that reflect the translucency of natural tooth enamel.
Why Choose Porcelain Veneers?
Porcelain veneers can straighten, whiten, or completely transform your smile. Veneers can cover up:
Deep discoloration or staining.
Dullness (for an instant whitening effect).
Some crookedness.
Cracks or chips.
Small gaps between teeth.
Dr. Wendy Harris or Dr. Craig Harris will help you select porcelain veneers that seamlessly match the rest of your smile. You can trust us to create veneers that are natural-looking, durable, and affordable.
A Stunning Transformation with Porcelain Veneers
Porcelain veneers can change the shape, size, and color of your teeth for ten years or much longer. The procedure isn't as extensive as other restorative options and requires little to no discomfort on the patient's part.
Not only will your smile be more beautiful with porcelain veneers, but it will also be stronger. Your teeth with dental veneers will be more resistant to both dental decay and staining. They will seal up any cracks and chips to fortify your weak teeth against further damage.
How Does the Process Work?
Come in to see one of our cosmetic specialists at Harris Family Dentistry to create the plan that will help you reach your smile goals.
Our professionals will remove about half a millimeter of natural enamel to prepare the teeth for veneers and then take impressions to send to a lab. Using these impressions, we will create veneers that are customized to the shape and size of your teeth, and that match your desired shade of white.
You can then enjoy a new smile with your very own beautiful veneers!
We believe our beautiful veneers could be the ideal route to perfecting and strengthening your smile. Call us today to schedule your cosmetic consultation at Harris Family Dentistry.